December 15, 1940 – January 12, 2023
Obituary Source: Girdner Funeral Chapel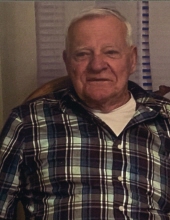 Arnold Lee Justice
Longtime Yreka resident, Arnold Justice, passed away peacefully while surrounded by family on January 12, 2023. He was 82 years old.
Arnold was born December 15, 1940 to David and Doris Justice in Washington State. The family moved to Yreka in 1956, and Arnold graduated from Yreka High School. On June 3, 1960, Arnold married Janet Lois Eastlick, and the couple made their home and raised their family in Yreka. Arnold worked various positions in the timber industry for over 30 years.
Arnold was preceded in death by Janet in 2009, and by his parents prior to then. He is survived by his children: Debbie Faith of Montague, Diana Justice of Yreka, Peggy Roane of Montague, Dennis Justice of Klamath Falls; his brothers, Keith and Glenn Justice of Yreka and Nevada, respectively; by numerous grandchildren and many great grandchildren.
Arnold's family would like to thank Madrone Hospice for their warm, compassionate caring and ask that memorial contributions be made in Arnold's name to them at 255 Collier Circle, Yreka, CA 96097.
Memorial services for Arnold will be scheduled for a later date, at which time he will be laid to rest with his beloved wife in Evergreen Cemetery.